This article is for Fitbit customers only.
If you are a Garmin customer experiencing weather issues, please click here.
Why is my weather incorrect?
We've done everything we can to make weather as reliable as possible on your Fitbit. However, sometimes issues can happen, such as:
Your Fitbit mobile app is being killed by your phone (which prevents us from refreshing weather)
Your watch is not connecting to your phone
You have not granted GPS permissions to your Fitbit mobile app
How do I fix the weather on my Fitbit?
Please try setting a custom location for your weather in settings.
You can do this by turning off the GPS toggle, and then entering your city and province/state in the box that appears below the toggle.
This should solve any problems your phone may be having with reading GPS values.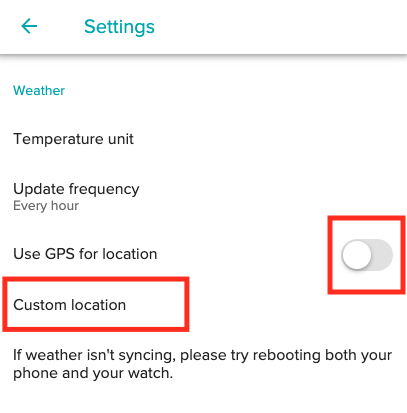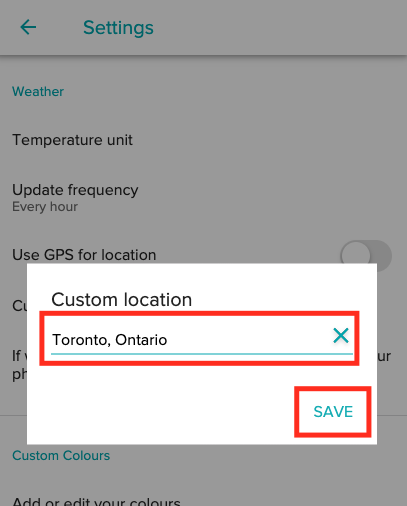 My custom location's temperature is wrong
If what you are entering is giving you a weird temperature or condition, please try different city/province/state/country combinations on our weather provider, www.OpenWeatherMap.org.
Once you find a combination that seems accurate, enter that value into our custom location setting on your clock's settings page.
Why is Lignite's weather different from Fitbit's?
The weather app on your Fitbit will never reflect the values on your Lignite clock.
We do not have access to Fitbit's weather app data. They use their own proprietary software which is inaccessible from third-party developers like us.
Our weather provider is OpenWeatherMap.
My weather is still not working!
If you have set a custom location as described above, please try the following other solutions:
Reboot your phone
Reboot your watch
Turn the GPS toggle off and then on again (wait ten seconds between toggles)
Ensure that the GPS permission is turned on for the Fitbit mobile app on your phone
Turn off battery saver/low power mode on your phone (as these modes kill background events which the Fitbit mobile app requires to fetch your weather data)
That should do the trick!
Hopefully your weather is working once again so you can know what to wear.
P.S. did you know that ALL of our Fitbit clocks have weather built in? You can check out everything we've built at www.Lignite.io.